Blueberry post season workshop 2022
Fruit Growers Tasmania | Wednesday, 13 April 2022, 11.00am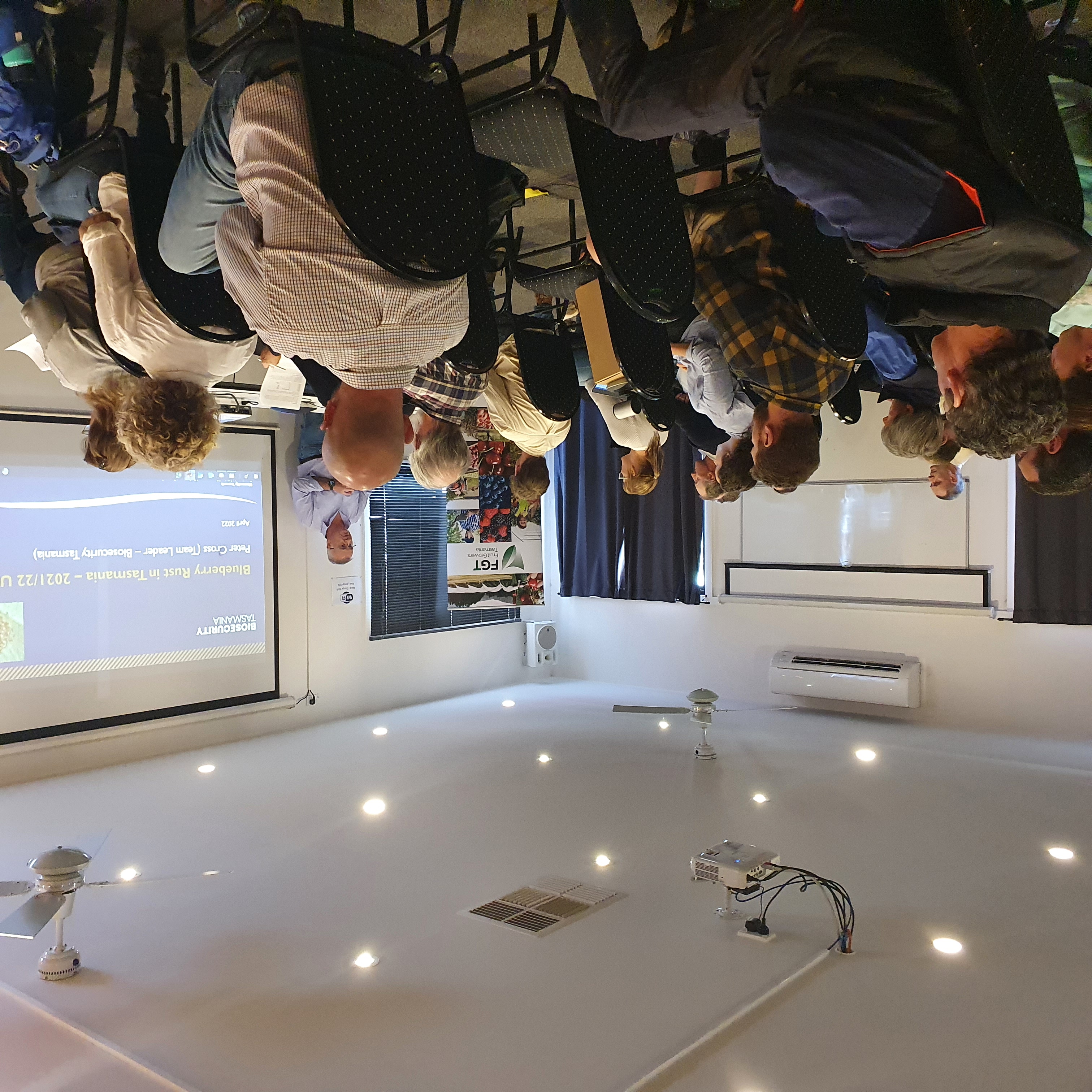 Fruit Growers Tasmania and Berries Australia held a Blueberry Growers Post Season Workshop on 6 April 2022. It was a great opportunity for blueberry growers to get together to discuss the outcome from last season and hear from Biosecurity Tasmania on the current blueberry rust detection program and the latest in blueberry rust R&D.
Berry Industry Development Officer Mark Salter started the morning session with a brief postseason update on weather, fruit quality and markets. In summary, the early part of the season was impacted which cooler weather, resulting in lower fruit set in southern regions. While in the north, several rain events affected some fruit quality. In summary, yields overall were slightly down, but prices were up. Feedback from the market indicates Tasmania has a good reputation for fruit quality, and there is still potential for growth in Tasmania's blueberry sector.
Peter Cornish, CEO of FGT, explained Fruit Growers Tasmania's role as a representative body for growers and that the organisation was fortunate to work closely with Biosecurity Tasmania (BT) in the context of blueberry rust, fruit fly and other biosecurity issues.
Dr Peter Cross from Biosecurity Tasmania presented the latest Blueberry Rust (BBR) Status Update, noting there were now 17 infected premises (IP's) across the state, with two in the South and the remainder in the North and North West. He explained the annual surveillance, tracing and Containment Plan, which allows growers that are free from BBR to trade with WA and SA. It appears WA is now reconsidering market access for blueberries from Tasmania.
One advantage of containing BBR is to create a holding pattern that buys time for the industry whilst research is undertaken to assist growers with managing the disease. Many questions and discussions followed BTs presentation and the close of the morning session.
In the afternoon session, Dr Kara Barry and Michele Buntain from TIA presented the latest R&D results from previous trials. Michele outlined a new $500,000 R&D project for "On-Farm Strategies for BBR Prevention & Management", which partners with State Government, TIA, FGT, Southern Cross Uni and Blueberry Growers. The research will focus on rust overwintering understanding the environmental conditions for survival and infection to occur, identifying high-risk conditions and how to break the disease cycle.
Stuart Doyle from Agvista then presented on other blueberry diseases blueberry growers should be aware of and monitor for, focussing on Botrytis and Botryosphaeria (Cane Blight). Stuart explained how these two diseases have a more significant effect on plant health and fruit quality than most growers realise. Controlling Botrytis is important, particularly in the early stages of flowering and can lead to heavy crop losses if not controlled. Also, later at the fruit maturity stage, if humid conditions are present and fruit is not kept at optimal temperatures. Likewise, with Cane Blight, many growers underestimate the extent of this disease and its occurrence in the field. Stuart explained that every farm he has visited in Tasmania has Cane Blight present and explained the symptoms. He enforced the need for sanitising pruning equipment regularly and not mulching cuttings in the field but instead removing them to minimise the spread of the disease. He also recommended several chemicals to help with control.
To close the afternoon session, Michael Tarbath from FGT gave a presentation on scoping activities to develop an app to help growers manage rust risks from farm visitors and seasonal workers. It was explained how the app is still in the initial concept stage and would require interest and support from growers if it was to be developed. Before full development FGT will survey growers to see if they want to proceed with this technology.
Feedback indicated the presentations were very informative and that the workshop was more than worthwhile.
View Biosecurity Tasmania Blueberry Rust Status Update Report