Young Tasmanian Grown Agronomist becomes a FMC scholarship winner
Fruit Growers Tasmania | Wednesday, 1 June 2022, 3.00pm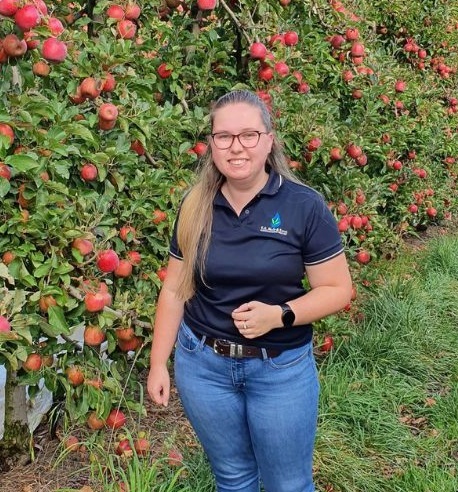 Tasmanian raised Georgia Griggs was recently awarded an exciting young leaders scholarship worth $12,000 as part of agricultural sciences company FMC's Learn Evolve Apply Develop (LEAD) Scholarship Program. Georgia Griggs grew up in the Huon Valley with her parents, Stuart and Shelley Griggs and brother Riley.
Georgia and Riley loved growing up on the family farm, Griggs Bros, in Castle Forbes Bay and became involved with working on the property growing premium quality apples, cherries and blueberries from a young age.
Fruit Growers Tasmania recently contacted Georgia to congratulate her and learn more about her industry story.
When did you develop an interest in the agriculture industry?
I didn't really develop an interest in a career in agriculture until I entered my final years of high school. Even while having the incredible opportunity to grow up the way I did, it wasn't until I began studying Agrifood operations in years 9 and 10 that I really settled on wanting a career in Ag.
Who has been a mentor for you during the early stages of your career?
I was fortunate enough to complete a work experience module with Serve-Ag in 2015 and, from there, became involved with the summer fruit operations of our family property.
Serve-Ag agronomist at the time, Nigel Bartells, was a significant mentor for me and the catalyst for wanting to progress to university. I was nervous about the academic requirements, but Nigel gave me an understanding of the broader study elements and the confidence to proceed.
What did you decide to study, and did that change your view on the agricultural industry?
I elected to study for my Bachelor of Applied Science in Agriculture and Business at the University of Tasmania, where I focused on plant sciences topics. While studying, I developed a passion for sustainable agriculture and interests in entomology and IPM. I began to really notice the disconnect between consumers and understanding where their food was coming from. The comradery and resilience of the Tasmanian perennial horticulture industry inspired me to want to continue my pathway into perennials.
But upon completing a second work placement, I decided I wanted to be involved in the production side of agriculture and assist the hardworking growers who put food on our tables in any way I could. Again the team at Serve-Ag were incredibly supportive, particularly Robin Dance and Sam Smee, who provided insights into the broader apple and cherry industry in the Huon Valley, as well as invaluable coaching on the importance of developing rapport with clients.
Where are you working now?
I am proud to now be working with the EE Muir and Sons team in Lenswood, South Australia, working in their Pome and Stone portfolio.
What do you hope to get out of this great scholarship opportunity?
I am hopeful that by engaging with the FMC LEAD program, I will further my footprint in Australia's Agricultural industry and help make changes that benefit our growers. Attempting to inform school kids about Agriculture and sway them into agriculture is a feasible way to begin expanding the agricultural talent base at our disposal and it is a way in which the future generations of growers will be supported.
Fruit Growers Tasmania once again would like to congratulate Georgia on receiving this scholarship and wishes her all the best with her future in the agriculture industry.
References
Murphy, S., 2022. Lenswood's Budding Leader. The Courier, p. 5.